Prices for Services
For actual prices to print, we have to have have a 3d model. All we can give you without a model is a ballpark quote with a wide price range.
Minimum project fee: $150.
If you have a small project that you feel should be much less than $150.00, we can print multiple copies or print other items for you in order to give you $150 worth of service. If you do not want to go this route, the Richmond, Chesterfield, and Henrico public libraries offer 3d printing services at select locations for small projects. If you are outside of these areas, contact your public library to see if they offer 3d printing services at one of their locations. 

| Service | Price |
| --- | --- |
| 3d Scanning of objects under 12″ x 12″ x 12″ (note multiple scans of an object from various angles may be necessary. Price includes merging multiple scans into 1 3d model). | $200/scan |
| 3d Scanning of objects larger than 12″ x 12″ x 12″ (note multiple scans of an object from various angles may be necessary. Price includes merging multiple scans into 1 3d model). | $200/hour |
| 3d Scanning day rate. We will scan as many objects as we can in 8 hours. (does not include travel expenses). | $1,000/day |
| 3D Micro Scanning for objects under 3″ (note multiple scans of an object from various angles may be necessary. Price includes merging multiple scans into 1 3d model). | $200/scan |
| Tent for outdoor scans in bight daylight (can handle objects up to 8′ x 8′ by 15′ tall) | $150 |
| Battery power source when closest electrical outlet is more than 200′ away. | $150 |
| Travel cost for offsite 3D scans (miles to the job site and back to our studio). | $0.90/mile + tolls |
| Reverse Engineering (converting scanned mesh files into editable CAD file | $100/hour |
| Retouching or filling in missing parts of 3d scans | $100/hour |
| CAD Design | $100/hour |
| 30 Minute Consultation via email, phone or video chat | Free |
| 30 Minute Consultation in-person | $45 |
| All meetings after 30 minute consultation | $85/hour |
| Setup Fee for 3d printing (Preparing 3d files for printing. Only charged for first print of each 3d model provided by client. Fee is waived for 3d models we create). | $10 |
| Post-Processing of 3d prints (support removal, sanding, prep for painting, assembly, etc) | $85/hour |
Deposits: We normally ask for a 50% deposit to start a project (with a minimum charge of $100), with the remainder due upon delivery of the final product. (we do offer corporate invoicing for projects) For long-term projects we can break out payments into several stages. We accept all major credit cards.
Shipping: We ship enough that we get corporate shipping rates with UPS, FedEx and USPS and we pass those savings on to our clients.
Ways to Save Money
Prototyping can be expensive and take time. There are usually revisions, multiple versions as you try to make your dream a reality.  That's what prototyping is all about. While we are in business to make money, we don't like seeing our clients waste their money on us. It's OK to be indecisive or to not have your project fully thought out, but doing so can increase our time involved which increases your costs, so we encourage all of our clients and potential clients to do as much as they can before starting a project. To save money, we recommend:
• Have your idea thought out before coming to us. Be able to tell us exactly what you are looking for.
• Bring a rough sketch (you don't have to be an artist and yes, we have gotten plans drawn out on cocktail napkins) that includes measurements. or make what you want out of clay or cardboard.
• Do your research on the industry for your product and if possible, types of manufacturing.
• Avoid "project creep" stay focused on the project.
• If you are providing 3d files, read our design recommendations and make sure everything is correct in your files. If we have to reprint due to an issue with your file, you will be charged for material used with each print attempt.
Our estimates are based on developing your idea, a couple of minor revisions, and the number of meetings that will be involved to get you to the finish line. Don't be afraid of making major changes, but realize that major changes can increase our time and would be outside of our initial estimate.
Cost to 3D Print
Our cost to print is based on the cost per gram of material plus time to print, so a 3″ cube with plain surfaces is going to be cheaper than a 3″ cube with texture or details on each side. This is because the more complicated cube uses more plastic to create a textured surface and every time the print head changes direction to create the texture it has to slow down, so the print takes longer to print. This makes it extremely challenging to give a precise price quote. If asked for one without an object to run through our software will will give you a price range.
Variables that can affect price is type of material, number of exterior shells, layer height (some refer to this as resolution, which isn't technically correct), infill (how much of print is filled with plastic), amount of support material needed, plus many more variables.
Four of the most important variables are:
Layer height: It defines the distance between lines of extruded plastic in the Z-direction. Material extrusion 3D printers typically print layers between 0.1mm and 0.3mm high. A lower layer height translates to a smoother, higher quality print. A higher layer height translates into a faster, low quality print. In the case of this print, a higher quality print is needed. If this was a cube with no details or textures, then a higher layer height would be preferred.
Infill: The area within a 3D-printed object that connects top, bottom, and side layers. This creates a rigid structure and determines print durability.
In general, the strength of an FDM object is directly tied to the infill percentage used during printing. For example, a part utilising 50% infill is approximately 25% stronger than a part that utilises 25% infill.
However, the amount of strength gained by increasing infill percentage does not increase linearly. For example, increasing infill percentage from 50% to 75% only results in an additional strength increase of 10%. And infill percentage from 60% to 100% only results in an additional strength increase of 8%. At infills higher than 60%, there is a risk of the part swelling or warping from heat being retained in the plastic too long.
An infill of 18%-20% is perfectly fine for a display item or first run prototype to check appearance and fit.
If you need strength higher than a 60% infill can provide, we would recommend adding additional shells to the exterior surface, or changing to a stronger material.
Shells: The sidewalls of a 3D printed model, created by the exterior edges of every layer. Most prints have 3-4 shells. Each exterior shell added does increase material and printing times.
Type of Plastic: There are many kinds of plastics. Some are made to handle certain types of liquids, some were developed to handle the heat from a car engine or autoclave, and some were developed to be food safe. Depending on the chemical components, prices vary from type to type.
Example: Let's use a 3d model of Grogu (3.552″ x 2.469″ and 2.849″ tall), from The Mandalorian show on Disney+ as an example: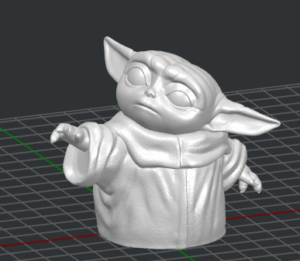 We can not print over thin air, so we would have to print support material (or scaffolding) under the arms, ears, and chin. The support material is removed after printing and is discarded. The print would print looking something like this –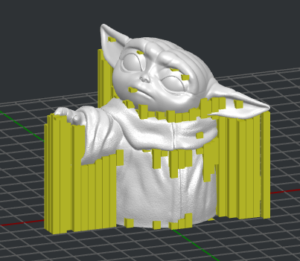 A price matrix for this particular 3d print would look like this (based on July 2021 prices for material) if we are printing 3 exterior shells:
Infill /Layer Height
ABS
Polycarbonate
Flexible
PETg
Nylon
Carbon Fiber
PEEK
ULTEM
Resin
0.1mm layer height:
20% Infill
$15.81
$18.18
$21.98
$24.18
$20.91
$24.30
$72.90
$109.35
N/A
40% Infill
$20.29
$23.33
$28.69
$31.56
$29.12
$33.86
$101.58
$152.37
N/A
60% Infill
$25.06
$28.82
$35.40
$38.94
$37.07
$43.10
$129.30
$193.95
N/A
100% infill
$45.60
0.2mm layer height:
20% Infill
$14.31
$16.46
$20.09
$22.10
$20.04
$23.30
$69.90
$104.85
N/A
40% Infill
$19.12
$21.99
$25.95
$28.55
$28.16
$32.74
$98.22
$147.33
N/A
60% Infill
$23.64
$27.19
$31.52
$34.67
$35.45
$41.22
$123.66
$185.49
N/A
0.3mm layer height:
20% Infill
$13.98
$16.08
$19.73
$21.70
$19.05
$22.15
$66.45
$99.68
N/A
40% Infill
$18.51
$21.29
$25.62
$28.18
$27.64
$32.14
$96.42
$144.63
N/A
60% Infill
$23.05
$26.51
$31.49
$47.24
$35.07
$40.78
$122.34
$183.51
N/A
0.6mm layer height:
20% Infill
$9.75
$11.21
$13.56
$14.91
$12.90
$14.99
$44.96
$67.44
N/A
40% Infill
$11.51
$13.24
$16.00
$17.60
$15.22
$17.69
$53.07
$79.61
N/A
60% Infill
$13.23
$15.21
$18.39
$20.23
$17.50
$20.33
$61.00
$91.51
N/A
Please note: The prices and parameters above are examples only to show how layer height and infill can change the price per part. Sales tax not included. Prices above do not include $10 setup fee to prepare the 3d model for 3d printing.
Yes, we can print at a 22% infill at 0.15mm layer height if necessary.
Scaling 3d Prints
We get a lot of customers who think that doubling the size of a print doubles the cost, so a $14 print doubled in size would cost $28. Unfortunately, this is not true, because you are doubling the object in 3 dimensions, so you are doubling the width, length and height (2 x 2 x 2) means the volume is increased by a factor of 8. In other words, it takes 8 times the amount material to print something that is increased 200%. If you triple the size (3 x 3 x 3) the material used increases 27 times.
This doesn't always mean that a $10 3d print doubled in size now costs $80 since more than likely we would be printing the larger version at a higher layer height, or reducing the infill, or breaking the 3d model into multiple pieces which can greatly reduce the amount of support material needed.
In the Grogu example above, if we are printing the model in one piece in ABS plastic at 200% (makes the model 7.104″ x 4.938″ x 5.698″),  3mm layer height, 20% infill, the price would be $120.80, where an original-sized model with these specs would be $13.98. In this case, we would recommend increasing the layer height, reducing the infill, and/or printing the head and arms separately which could reduce the price by $30-$60.